Tri-Luma is a mdeical prescribed drug that is used to treat melasma, you can also buy tri-luma online with a medical prescription scanned to the medical certified vendors. It is a class of glucocorticoid.
Tri-Luma Cream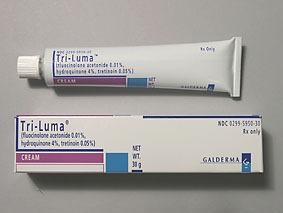 The cream contains Hydroquinone 4%, Tretinoin 0.05%, fluocinolone acetonide 0.01%. This three ingredients makes the cream very strong.
Hydroquinone - It is a skin depigmenting agent the decreases and stops the production of melanin makes the skin tone look more even.
Tretinoin - It is gotten from Vitamin A and it is used to renew dead skin cells to give a fresher and smoother look. It also acts as a skin shield.
Tri- Luma Inactive Ingredients:Butylated hydroxytoluene, cetyl alcohol, citric acid, glycerin, glyceryl stearate, magnesium aluminum silicate, methyl gluceth-10, methylparaben, PEG-100 stearate, propylparaben, purified water, sodium metabisulfite, stearic acid, and stearyl alcohol.
Fluocinolone Acetonide - It is an anti-inflammation agent that helps to repair the skin and reduces redness and sensitivty from inflammation.
Review
- It worked well for me to get rid of my sunspots on my forehead, nose and cheeks . It made me look younger.
Uses Of Tri-luma
It is used to get rid of skin discoloration.
It is used to lighten the skin.
It is used to get rid of wrinkles and fine lines.
It is used to treat acne scarring.
Side Effects Of Tri-Luma
It can make the skin peel uncontrollably.
It can cause redness and irritation.
It can burn the skin.
It can dry out the skin and cause itchiness.
You can buy the cream online at pharmacychecker website or at great-pharma.