Germall plus is found in all our skin care products including makeup to prevent it from going bad or expiring too quick. Germall plus is found in shampoos, shower gels, conditioner, makeup, soap and oils.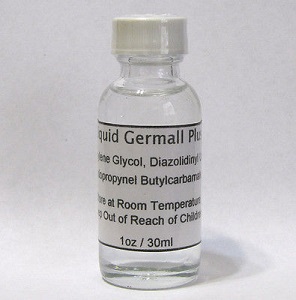 Germall plus usually comes an an ingredient in many skin care products that we buy but liquid germall plus can also be purchased and added to your skin care products.
Liquid Germall Plus Ingredients
: Propylene Glycol (and) Diazolidinyl Urea (and) Iodopropynyl Butylcarbamate.
Germall Plus is a clear viscous liquid and it is recommended to be used in the dosage of 0.1-0.5%.
Germall Plus is extremely effective at a pH range of 3-5.
Side Effects of Germall Plus
There was a report that Germall Plus causes skin cancer but there has been no solid proof to back this up.
Germall plus should not be ingested into the body as this can have serious side effects and can lead to permanent damage of the body cells.