Hello SCA, i would be posting my skin light cream review here. I have used the cream for exactly 2 months now and my skin is very light and pale now. My skin tone used to be dark brown before and i was very light when i was a baby. I am getting a greyish brown skin tone from it.
This is the SkinLight Cream I used not the Skin Light cocoa butter cream. The cream has Vitamin E and carrot extract in it. The SkinLight jar cream also has a high percentage of hydroquinone in it.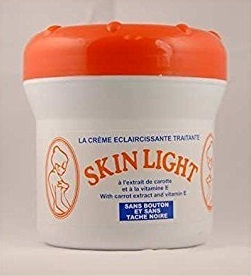 Skin Light Cream Ingredients
: Huile de vaseline, vaseline blanche, acide stearique, lanoline purifee, hq, vitamine E extracts naturales de carotte, fragrance, antioxydant, conservateur, MPG.
This is my result from the skin light cream alone. I did not mix any tube, oil or serum in it i just used the skin light cream alone and i did not use any skin lightening soap, i use my normal olay body soap.
Skin Light Before and After.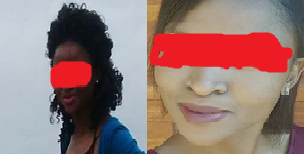 As you can see i have a grey hue to my pale skin tone.
Pros Of Skin Light Cream
It can bleach and lighten very dark skin in a matter of days.
It comes in a large jar.
It makes the skin look more natural.
Cons Of Skin Light Cream
It can cause pimples and irritation.
It can make the skin red.
It has a terrible smell.
Last edited by a moderator: