Skin care Specialist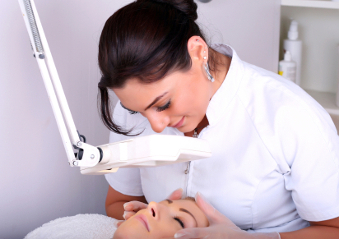 Hello everyone, so i've always been interested in having a job that has to do with esthetics because of my love for skin care. I have decided to go to beauty to school to get my certificate in being an esthetician. I did a little research and it came to my attention that being a skin care specialist is a very profitable job and not only that but you have the freedom of working any time that you like. I'm lucky enough to be living in Austin, Texas because we have a lot o beauty school here. I would like to dabble a little bit in dermatology to see if i could get my degree and be a dermatologist. I know, I'm trying to kill two birds with one stone but i' m just so ambitious.
I also found out that an approved skin care specialist makes about $15 and hour and that is almost $30,000 a year. The entry level degree for a being a skin care specialist is a post secondary school education and does not necessarily have to be a degree, it can be a certificate. And one does not need a secondary job experience to have a skin care specialist job. There about 55,000 jobs in the united state.
The main job of a skin care specialist is the beautify and cleanse the face and to improve the overall appearance of the skin. A lot of skin care specialist have their own beauty salon or spa but most work under famous beauty company like Paul Mitchell. A few skin care specialist work in medical institutions. Skin care specialist that are not self employed work full time but a lot of
skin care specialist
that are self employed mostly work weekends.
All
Skin care specialist
have to complete a necessary state given test for cosmetology or esthetician program and they would also have to pass a state given test to get their license. All new skin care specialist are usually given immediate training and this is important in the case of working with chemicals.
The job market for a skin care specialist is projected to double by the end of 2024 as more younger and older people are into skin anti-aging