Hi everyone, in this post i'm gonna be showing you guys my result from the use of salicylic acid peel. Salicylic acid peel along side other peels and brightening creams are very important in my skin care routine. I like salicylic acid peel because it is one of the easiest peels to do and it works well on all skin types.
Ok so salicylic is one of the most effective chemical peels. It helps to get rid of debris, dirt and excess oil within the skin . It helps to reduce clogged pores and breakouts. Salicylic acid peel is different from other peels because it goes deeper within the skin to get rid of ingrown follicles and kills any form of bacteria on the skin. The peeling process was a little bit annoying and i got irritated at first but it eventually went away after moisturizing my skin. I will post my before and after the peel.
http://amzn.to/2unKgvz
Before and After Salicylic Acid Peel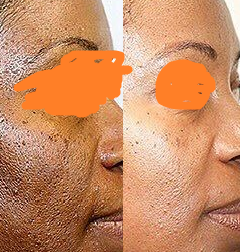 http://amzn.to/2unKgvz
My skin has finished peeling and it is finally back to normal again and i can't tell you guys how happy i am. My skin looks so much better and brighter. A lot of hyper pigmentation on my my face has gone. My acne scars has reduced significantly to almost not showing. I also plan on doing another peel in about a month from now.
Ok so let get right into it
My Salicylic acid peel Regimen
First of all i clean my face of all dirt and wipe my face with a wet towelette

I prep my skin by putting cotton into methyl alcohol and rubbing it on my face
I applying moisturizer or balm on the areas that i don't want the peel to touch like my eye and mouth area. This is just like applying texturizer or relaxer to the hair

I apply my 30% salicylic acid peel on my face twice with a 10 minutes interval between each application. My face begins to frost and i feel a slight discomfort in the form of itching and stinging. You can use a mini hand fan to lower the sensation.

When the sensation is gone or after 5-7 minutes, i apply water to my skin to neutralize the peel.
I apply my moisturizer because during this process the skin would be stripped of it natural oil.
It is important to apply sunscreen because the skin would be very sensitive and it can get easily burnt. So be smart about this.
After 3 days the peeling process would start and it usually ends in about a week.
Side-Note : Don't scrub your face or use any form of waxing on your skin during this process.
http://amzn.to/2unKgvz
Last edited by a moderator: