Caro white is a brand of skin lightening products that includes lotion,tube, cream and oil.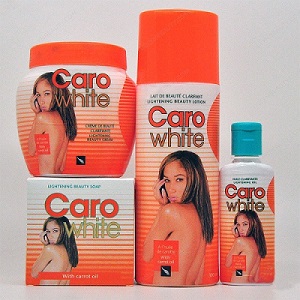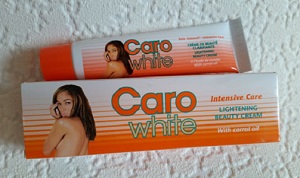 Caro white used to be known as caro light as been around since the early 2000s but got really popular around 2009 . Caro white is made in cote d'voire an all their products contains the same ingredients except for their tube cream.
The ingredients listed on the products are: Petrolatum, Mineral Oil, Stearic acid, Cetearyl alcohol, Isopropyl myristate, Glycerin Methryl & propylparaben, Huile de Carotte, Vit E(0.2%) Hydroquinone 2%, Aqua(eau) and Fragrance
The active in their tube cream is a steroid called: Clobetasol Propionate.
Caro white has been known not only for it cheapness but it fast results also, You can begin to see your skin lightening in as little as a week. Caro white is suitable for people with darker skin tones. You should expect a light brown skin tone with yellow under tones within 3 weeks of using the products. Caro white cream and the oil is really greasy so it is advisable to use the lotion on the face to prevent breakout. There is a popular myth that people believe about adding the oil to boost it effectiveness, this is really not true the only thing the oil would do is bring out the brown under tone more which could result in tanned shade skin. it is also good to start out by exfoliating the face before the application of the cream
Pros of Caro white / Caro light skin lightening cream
It is affordable
The result are fast compared to other products
it contains vitamin E
it is highly effective for the appropriate skin tone
The lotion is a good moisturizer.
Cons of Caro white / Caro light skin lightening cream
May cause rash or irritation (i personally never had this problems)
It is made in a shady company
The cream is too greasy
The smell is pretty strong
It can stain your cloth with brown spots
It may give a tanning effect to people of light yellow undertones.
Last edited by a moderator: