There is no doubt that chemical peels are very effective in treating a lot of skin conditions like scars, hyperpigmentation and sun spots but they are also used in treating acne marks. There are different types of peels that can be used in treating acne. Different chemical peels works for specific skin tones a and misuse of chemical peels can lead to temporary skin lightening or skin darkening. In some case it can be permanent. There are cases where the misuse of chemical peels have caused raised scars (keloids) in both dark skin and light skin people. Chemical peels results vary on the percentage used. It is advisable that darker skin people seek the help of a medical professional before using any form of
chemical peel for acne
.
Types of Chemical Peel For Acne
Lactic Acid
Glycolic Acid
Salicyclic Acid
TCA Peel
Jessner's peel
BHA Acids.
Over the counter products are very effective in the treatment of acne scarring and some products that can be found in local stores are
Amlactin
Sodium Lactate Lotion
Skin Obsession 40% Glycolic Acid
Alpha Hydrox AHA Enhanced Lotion
Jessner Solution Acid Peel 14%.
Chemical peel for acne
ranging from 5%- 10% can be done at home but cautions must still be taking because it can result in serious burn. Chemical peels ranging from 30% up should definitely be done by a chemical professional or someone who really knows what they are doing. Chemical peels should be left on the skin for 3-7 minutes depending on the percentage. A lower percentage would be left on for a longer period of time and a higher percentage would be left on the skin for a shorter period of time.
Chemical peels can definitely be effective in treating acne as i have said before and i have my own picture to proof it.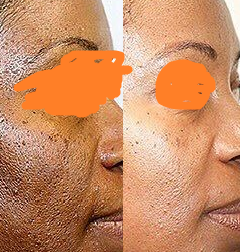 This is my result from the use of salicylic acid to treat my acne scarring. It should be noted that their are different types of acne. Not all acne can be treat with chemical peels but instead the opposite should be done. Building the damaged skin cells with collagen and power anti-oxidant would be the way to go for people with sensitive acne. Collagen building has worked for a lot of people i know, especially with red acne scarring.
Last edited by a moderator: