Alright guys, it feels so good to be back on my favorite forum even though i occasionally lurk around from time to time. This would be my review on black and white bleaching cream. I reduced the amount of skin lightening products that i' m using, so know i' m trying to use simple products to bleach my skin. Due to college i had to keep things simple. I realized that being in college was making it hard to concentrate on all the products i was using.
My result - Black and White Bleaching Cream Before and After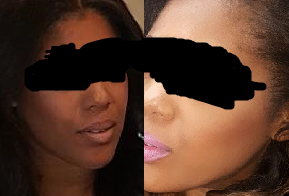 For those of you who don't know what
black and white bleaching cream
, it is a skin bleaching cream as the name implies made by a company called J Strickland & Co. They specialize in ethnic beauty products for the hair and skin. J Strickland & Co is also the company that makes nadinola, so they are a well reputable company and they don't lace their products with shady ingredients. Black and white bleaching cream can gotten from CVS or Walmart. Black and white bleaching cream is really good for black skin because it was made solely for black skin. Black and white bleaching cream can be used for underarms if they are dark or any other part of the body.
This is what the cream looks like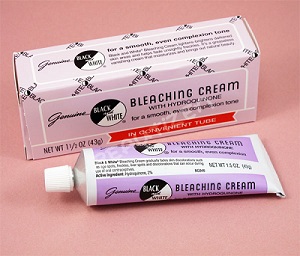 Black and white bleaching cream Ingredients
:Hydroquinone 2%. Inactive Ingredients Water , Glyceryl Stearate , PEG-8 , Cetyl Esters , Mineral Oil , Cetyl Alcohol , Sodium Sulfite , Ascorbic Acid , Citric Acid , Methylparaben , Fragrance
Here is a little background
I started using
black and white bleaching cream
on my face at the beginning of this summer. My shade before was around Kelly Rowland skin tone. With the help of exfoliation and daily use of black and white bleaching cream i was able to lighten my skin 3-4 shades. I stopped a while back be cause i was getting too light and everyone around me was noticing, so i concentrated more on evening out my skin tone. I concentrated on exfoliating my skin more and i make sure that i apply sunscreen anytime i' m going out. I've been called light skin by women and men. I got a bit of a tan when i stopped using the cream and this gave my face a more natural glow to it. I look more caramel toned now. My face is now the same skin tone as my body as i have a naturally light body. Anyway that is it guys
Pros of Black and White bleaching Cream
It lightens the skin very fast.
It gets rid of acne marks.
It makes the skin more even.
It gives the skin a nice glowing complexion.
It is affordable.
Side Effects
It might cause the skin to breakout.
Last edited by a moderator: