Based on my own experience, this are the best skin lightening creams that you can buy on the guesso website.
Best Skin Lightening Creams on guesso
1.Caro white
- It is one of the most popular cream in the skin lightening community and it lightened me from a dark brown to a golden yellow tone.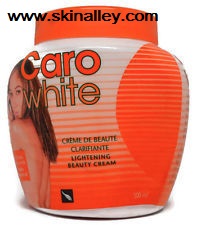 Ingredients
: Petrolatum, mineral oil, stearic acid, cetearyl alcohol, isopropyl myristate, glycerin, methryl & propyl paraben, huile de carrote, vit e(0.2%), hq(max 2%), aqua(eau), fragrance
2.Labidjanaise Anti Taches Cream
- Labidjanaise cream is one of the best skin lightening creams for people that are new to skin lightening, it contains both aha and hydroquinone so it exfoliates and lightens the body at th same time. It can lighten to a nice pale yellow skin tone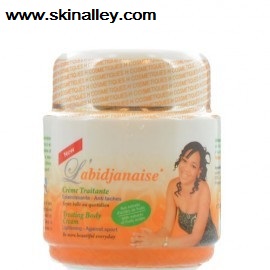 Ingredients:
AHA, Hydroquinone 2%, Water, Lauryl Ether Sulfate, Dimethicone, Praffin Oil, Sweet Almond Oil, Shea Butter, Butyl Paraben, Steareth 2, Tea Tree Oil, EDTA, Glycerin, Fragrance.
3.Dodo Beauty Lightening cream
- Dodo is a very strong lightening cream but when used right, it can give a really good result and can lighten up too 4 shades.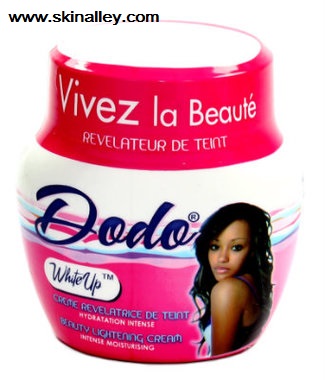 Ingredients:
Dermineralized water, Hydroxy Acid Alpha, Petrolatum(Paraffin), Mineral Oil, Kojic Acid, Isopropyl, Myristate, Fragrance.Simindsiachinensis (jojoba Oil), Triticum Vulgare (Wheat Germ Oil), Tocopheryl Acetate(Vit.E), Ascorbic Acid(Vit.C), White UP, Sodium Sulfit, Triethanolamine, U.V Protection.
4.Clear Essence Maxi Tone Skin Beautifying Milk
- If you are one of the people looking for safe product with no sketchy ingredients in it then the Clear Essence line is for you. Clear Essence is a trusted company in the US. Their product exfoliates and lightens the skin. This would lighten dark spots and make the over all complexion smoother and creamy.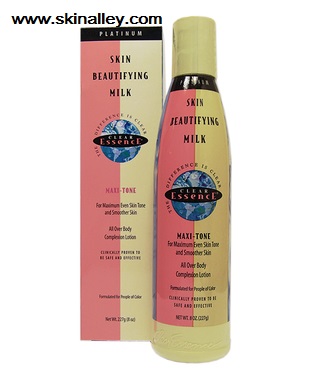 Ingredients:
hydroquinone 2% Purified Water, Petrolatum, Propylene Glycol, Stearic Acid, Isopropyl Palmitate, Cetyl Alcohol, Ammonium Lauryl Sufate, Hydroxyethylcellulose, Glyceryl Stearate, Diazolidinyl Urea, Methylparaben, Propylparaben, Sodium Metabisulfite, Dimethicone, Octinoxate, Ascorbic Acid, BHA, Propyl Gallate, Trisodium EDTA, Citric Acid, Fragrance
5.Makari Extreme Carrot Milk
- Though expensive, you know you are getting your moneys worth. It is one of the elite skin lightening creams. It can lighten a very dark skin to a nice glowy pale complexion.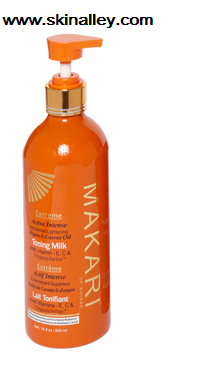 Ingredients:
Aqua (water, PEG 100 Glyceryl Stearate, Isopropyl Myristate, Cetearyl Alcohol, Glycerin, Mulberry (Morus Alba Root) Extract, Organiclarine, Propylene Glycol, Ceteareth-20, Argan Oil, Arbutin, Kojic Dipalmitate, Dimethicone, Mineral Oil (Paraddinun), Licorice (Glycyrrhiza Glabra) Extract, Parfum (Fragrance), Daucus Carota Sativa (Carrot) Seed Oil, Sodium Lactate, Allantoin, Methyl Gluceth-10, Tocopheryl Acetate (Vitamin E), Ascorbic Acid, Sodium Lauryl Sulfate, Vitamin A Palmitate, Sodium Metabisulfite, Disodium EDTA, Methylparaben, Proylparaben, Benzyl Alcohol, Benzyl Benzonate, Hexyl Cinnamic Aldehyde, Benzyl Salicylate, Citronellol, Hydroxycitronellal, Benzyl Cinnamate, Isoeugenol, Cinnamyl Alcohol, Cinnamal, Citral, Linalool, Coumarin, Fugenol, Farnesol, Geraniol.