This is crazy but i just cam across this brand that claims to have 20% hydroquinone in their cream. The name of the brand is isis gold strong skin bleach and they even have reviews on their website that shows the result from the use of the cream. I am thinking that this kind of cream can't be safe and i am trying to figure out the deal with this company.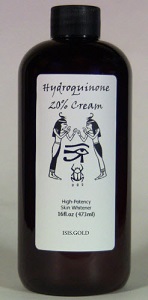 The design even looks shady lol.
The 20 hydroquinone cream claims to
Make the skin white.
Bleach knuckles and knees.
Bleach the genitals and buttocks whiter.

Erase your birth marks and moles on you skin.